I've been fighting a battle for almost three years. A battle to grow and nurture something, although Mother Nature seems to have other plans.
Oh, did you think I was talking about the inside of my uterus? My bad. I was talking about my lawn.
Behold the majesty of my kingdom.


When M and I bought our house a few years ago, we knew that there'd be some frustrations with home ownership and maintenance. Stuff like a roof needing repair, or an old furnace needing replacement, or just general minor crap around the house that would need upkeep. But the lawn? We kind of figured it would pretty much just take care of itself. Cut it, water it occasionally, and it would be fine! I mean, grass grows all kinds of places all on its own, without people even taking care of it, right?
Yeah. Not so much.
The three-pronged assault on our green space began in the backyard, where we discovered occasional dry patches that just weren't responding to our usual watering. Turns out this is because the grass was being eaten from beneath by an infestation of disgusting fat white beetle larvae. Since most pesticides are banned in Ontario, our only real option to get rid of them is to use nematodes, which are basically freeze-dried microscopic parasites. You add water (think sea monkeys!) and spray them on your lawn, where they are supposed to chow down on the grubs while leaving your lawn untouched. Great in theory, however applying them to your lawn is incredibly finicky. You need a certain temperature range, damp soil, no sun for a couple of days, a full moon, a blood sacrifice to the Norse gods...well ok I made some of that up but it seriously felt like working a magic spell and we obviously did it wrong since we still have grubs.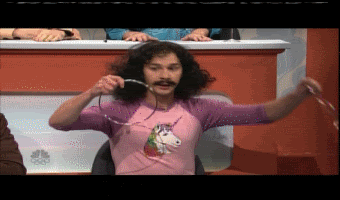 Magic!
The super awesome part about having grubs is that they're just the first wave of destruction. They spend all summer weakening your lawn's root system so that in the fall, when they're nice and fat and delicious, raccoons have no trouble at all tearing up your dead yellow grass to get at the delectable little treats. Don't let their cute little masked faces fool you; raccoons are assholes. They were pulling up huge strips of grass and rolling it back like demented little anti-landscapers, meaning that there were literally mornings that we would look out our window and see huge swaths of bare dirt where there had been relatively healthy grass the night before. If he wouldn't have been arrested for animal cruelty, M would have gotten himself a BB gun and sat out there in the dark so that he could take care of the little fuckers Clint Eastwood style.
With the backyard essentially a lost cause, we at least took solace in the fact that our front lawn looked nice. That is, until we went on vacation last year and came back to find that the pretty little blue flowers we'd seen on our lawn in the spring had been warning signs of a weed called "ground ivy" which had now overtaken pretty much the entire front yard. Ground ivy is also called "creeping charlie" which is fitting because getting rid of this shit is like going up against the goddamn Viet Cong.
You can try to weed it by hand, but it's an exercise in futility because it's basically a vine that crawls along the surface of the soil and sets new roots every inch or so. At each node it sends out new vines so you end up with a web of the stuff running under your grass. The first time I tried to pull it up I ended up feeling like that scene in The Hurt Locker where Jeremy Renner (ugly? hot? I can't decide) thinks he's digging up one bomb and ends up pulling up a bunch of wires and realizing he's surrounded by bombs.
Like this, but much less explode-y
Yet again, pretty much anything that will kill this stuff is not available in Ontario. One home remedy is to use diluted Borax, which apparently upsets the chemical composition of the ivy enough to kill it without damaging the lawn. I have to say that I find it oddly fitting that I'll be using the same chemical that Sam and Dean used to kill the Leviathans on Supernatural (seriously, you guys still aren't watching this show??), but given our lack of success with the nematodes we'll probably just end up killing the whole lawn entirely. Which, at this point, might be a mercy. We should probably just light the whole thing on fire and start over.
This would be so much more satisfying.